BEAR CLAW Drywall Repair Clips
The best way to repair damaged walls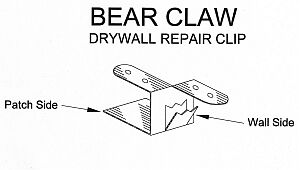 How To Use


OH NO!

Cut a piece of drywall large enough to cover the hole, trace onto wall

Cut out damaged area

Slip clips around edge of replacement piece

Simply push the replacement piece into the opening

Apply drywall tape and joint compound

A light sanding, some touchup paint and you are as good as new!!!

The BEAR CLAW DRYWALL REPAIR CLIP is simply the easiest and fastest method of repairing holes in drywall. Anyone can fix a hole in two to three minutes.
The BEAR CLAW DRYWALL REPAIR CLIPS gives professional looking results.
The clip is made of 0.015" thick metal (about the thickness of a corner bead),
so it is easy to cover with joint compound.
The BEAR CLAW REPAIR CLIPS are less expensive than other drywall products.
The BEAR CLAW DRYWALL REPAIR CLIPS can utilize a piece of 1/2" or 5/8" drywall to repair a wall of any thickness. You can use 1/2" clips to fix a hole in 5/8" drywall or a 1" plaster wall equally as well. The clips make the patch board used flush with the face of the wall instead of the back like most products in the market.
The BEAR CLAW DRYWALL REPAIR CLIPS can fix a hole or any size or shape.
The clips can be used across studs and pipes or can fix a round or odd shaped hole.
The 5/8" BEAR CLAW DRYWALL REPAIR CLIP has a one hour fire rating (ASTM E119 Test). This makes it ideal for both commercial and industrial applications requiring adherence to local fire codes.
The clips are ideal for opening up walls for routine electrical/plumbing tasks.
Simply use the removed section of wall to repair the opening when your work is complete.
This product is Ideal for the professional (plumber, electrician, telephone service or computer networker) who is opening up walls on a regular basis to repair something or pull a wire/cable.